Product Description
Choose from an ADHESIVE or a re-positionable MAGNETIC skin.
12inchSkinz offers you an adhesive (semi-premanet) or our re-positonal magneticsakinz. The benefits of a magnetic skin gives you the ability to leave your mixer at home but take your customized skin with you. This skin can be installed in just a few seconds which makes it perfect for the touring Dj on the go. The magnetic properties of our skin will NOT interfere with the internal magnetic line and cross faders. The anti-reflective, micro texture laminate make these skinz extremely durable and offer the same feel and look as the original faceplate decal.
Adhesive skinz require the removal of all knobs for install but offers a more "FACTORY" or "OEM" type look. Adhesive skinz are "once on, once off".
Quality
REAL METALLIC MIDDLE LAYER: Choose between a BRUSHED or CHROME/MIRROR material which provides a luxurious "audiophile" appearance.
DURABLE OUTER LAMINATE: Brushed metallic has an anti-reflective MATTE laminatie finish while the MIRROR has a superior GLOSS laminate finish which provides protection for the hardware surface and maintains a stylish OEM look. The matte laminate has exact same look and feel as your OEM RANE skin.
ADHESIVE LAYER: Starting with the adhesive side that adheris to the mixer surface, is speciallily designed with an anti-self sticking, "bubble-free", pressure permanent adhesive. This technology allows for an easy install with 100% surface contact with no trapped air pockets. This allows you to install with no special tools, just your crafty DJ fingers.
MAGNETIC ADHESION: our magnetic material will NOT interfere with internal componets "faders". The one piece design allows the skin to stay in place and will not shift horizontally across mixer surface. Magnetic skinz are the eaaiest to install as they they DO NOT require any encoder or potentiometer knob removal. Just remove fader caps and install in (30 seconds or less)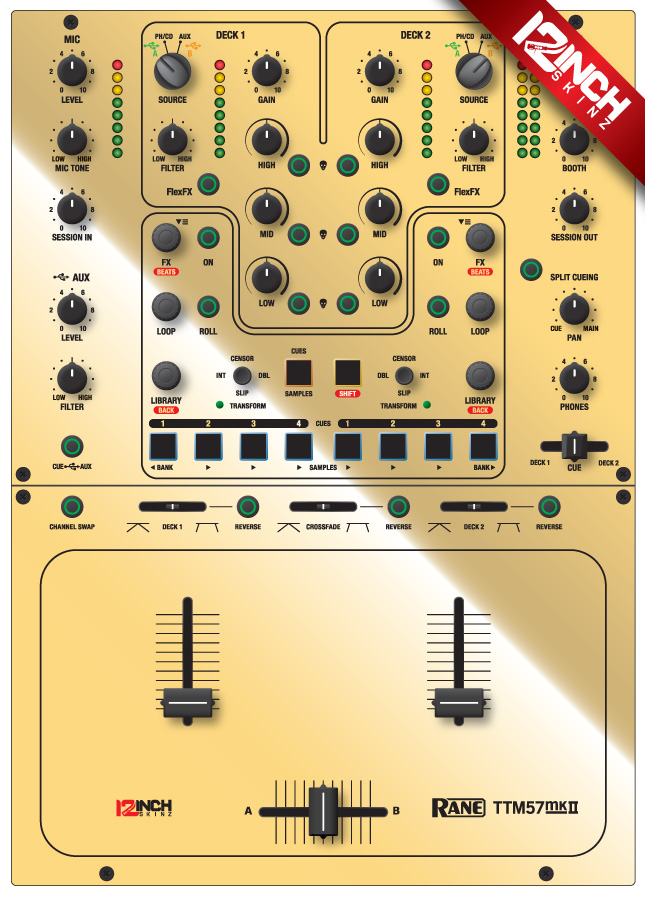 Product Videos
Custom Field
Product Reviews